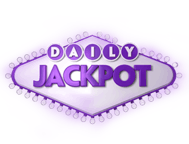 Vegas Jackpots -Daily Jackpot Games
Play for Daily Jackpots at Paddy Power Vegas
Here at Paddy Power Vegas, generous jackpot payouts are a daily occurrence with our vegas online casino. Unlike other sites where big payouts drop once in a blue moon, our Daily Jackpot games release big money prizes every day.
What Are Vegas Daily Jackpots?
At the start of each day, the daily jackpot counter is set in motion and by the end of the day it will have been triggered by our real money players:
Daily Jackpot: Typically, worth upwards of five figures, this jackpot is paid out at random and must be won before 11:00pm every day.
Cash Booster Jackpot: This instant-win jackpot is paid out to a series of lucky players. The trigger point is always random, but always hits before the community prize pool hits £2,000.
Monster Jackpot: As well as our daily wins, we've also got a monster jackpot, a community prize pool that often exceeds seven figures. This jackpot can be won with any spin, at any stake on any daily jackpot game.
The Best Vegas Daily Jackpot Slots
To play for any of our Daily Jackpots, you'll need to take a spin on our specially selected slots. By playing the likes of Arcade Bomb, Dragon's Luck and Epic Journey, you'll not only have the chance to win impressive in-game prizes, but community payouts worth thousands all with our online vegas platform!
If you're 18+ and located in the UK, complete the Paddy Power Vegas sign-up form and get instant access to our Daily Jackpot slots today.